Address History
Address history makes it easy to follow correspondence. The Bat! can automatically collect information about the correspondents you specify. To access the address history, switch to the Addresses folder tab under the account tree.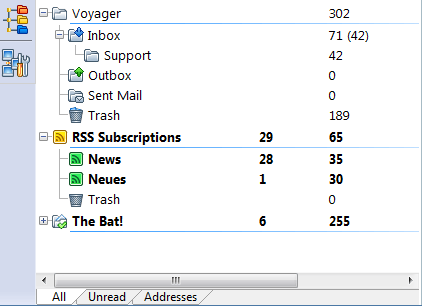 When you switch to this tab for the first time The Bat! automatically opens the "Address History Setup" window. You can define from what category of messages – Incoming or outgoing – The Bat! will collect addresses. The program offers to scan the message base for initial set. Check the needed boxes, and click Next.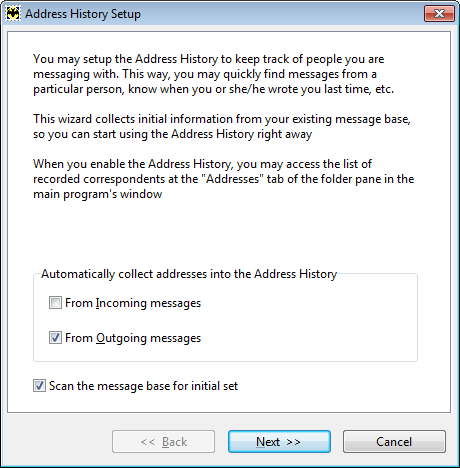 Select the folders that should be scanned: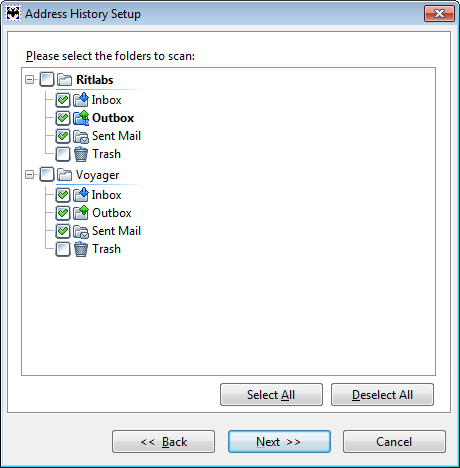 After the scanning is finished, The Bat! will offer you either to track all correspondents or only those you have recently contacted. The time range can vary from one day to several months. If you change the time range you will notice that the number of contacts to track changes too.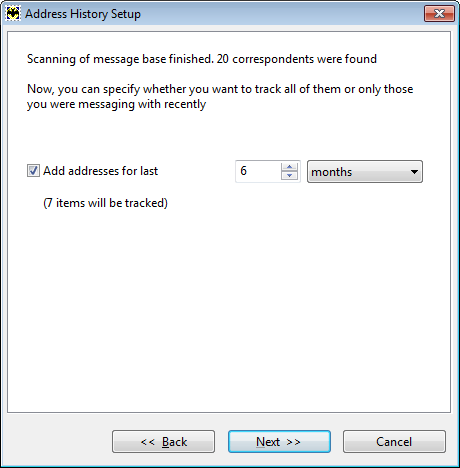 After you click Next, you should specify the accounts for automatic address collection. You can change these settings later under the Options -> Preferences -> Address History menu. Click OK to finish setup.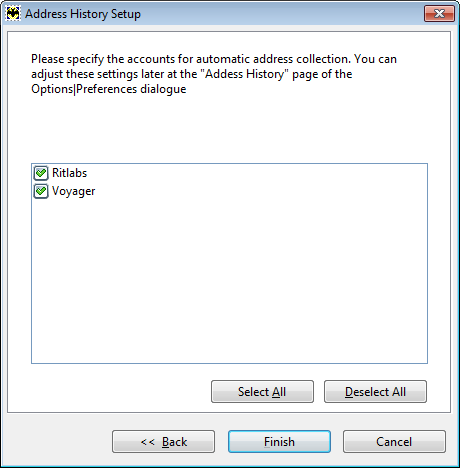 You will now see the list of correspondents under the Addresses tab. Once you select a contact you will see the messages sent from or to him (depending on your settings) in the message list. The new incoming or outgoing messages will also be added to the address history. 
Later you can add new contacts to the address history using the Specials -> Add Sender to Address History menu. This menu item is available in the context menu as well.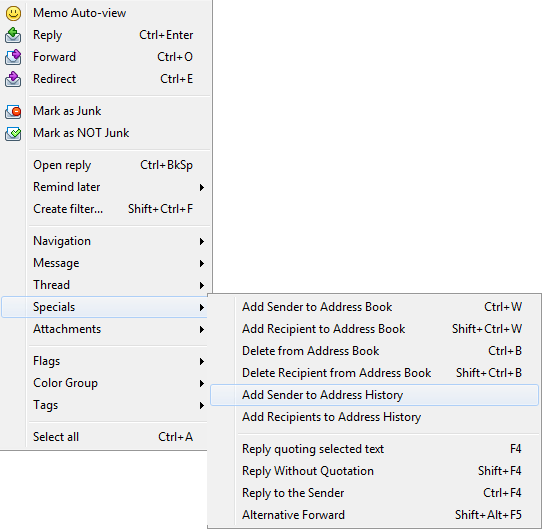 To delete a correspondent from address history, select it and press the Delete key. A confirmation dialog box will appear. If you do not want this contact to be added to the address history, enable the "Add a record to the Do-Not-Track List" option.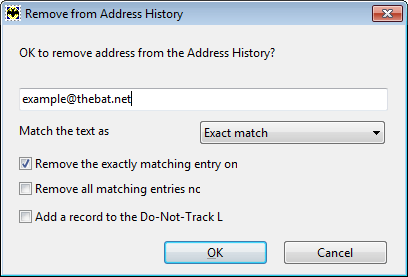 To configure address history use the Options -> Preferences -> Address History menu. You can access it directly from the Addresses tab, right-clicking the address history list area and selecting "Address Tracking settings" (Ctrl+F10).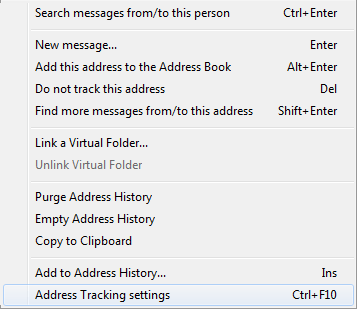 You can change the settings you chose when you first configured address history. To add addresses that should not be tracked, click the "Do-Not-Track List" button. You can add exact addresses or addresses matching certain criteria here. It is possible to limit history by several months and purge exceeding entries from history on exit.