Inbox Analyzer
The Inbox Analyzer is a new mechanism that helps you handle emails more efficiently. It analyzes the correspondences stored in the Inbox, divides messages into groups depending on its senders and date and offers you suitable actions. With the Inbox Analyzer you can sort messages to folders and create an efficient set of filters that will sort messages in future - from scratch and in no time at all.
The results of the Inbox Analyzer's work are shown in a separate window and you can change them according to their own preferences. The Analyzer helps to sort and filter messages quickly, but its actions are just recommendations, final decision always being your exclusive prerogative. Besides, you can manually adjust the Inbox Analyzer to your needs - for example, to create your own sorting groups.
To start working with the Inbox Analyzer, go to Folder -> Inbox Analyzer in the main menu: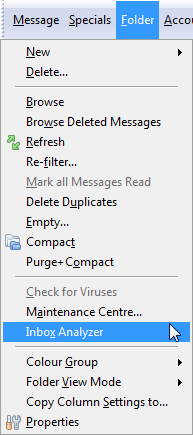 In the box that appears, you can select the accounts to be analyzed: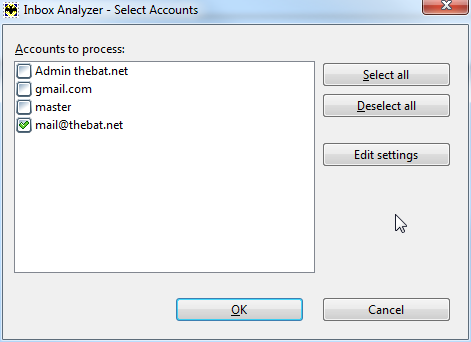 By clicking the "Edit settings" button in this box you can access the Analyzer setup form. It is also available in Options -> Preferences -> Other options -> Inbox Analyzer: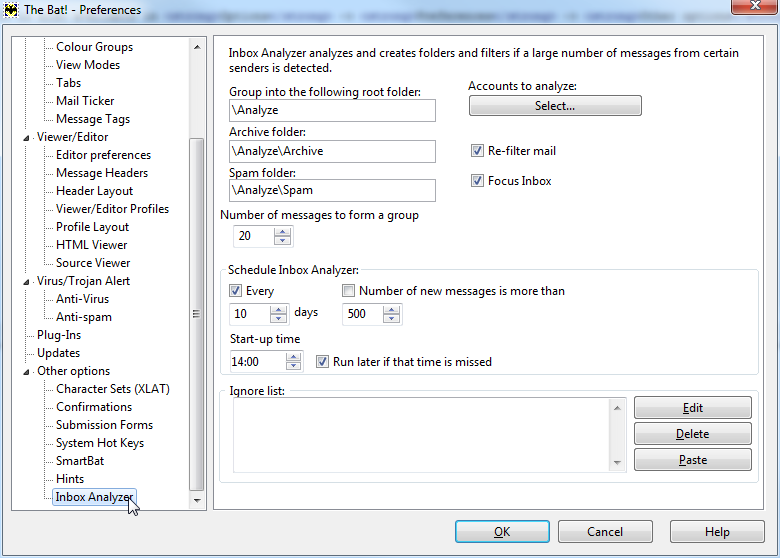 From here you can:
Assign folder names that will be used while processing the results of the analysis (by default the Inbox Analyzer creates new folders in root folder Analyze, archive and junk messages are put into its subfolders - Archive and Spam, correspondingly)
Select accounts to be analyzed
Determine whether to re-filter mail using newly generated rules or not
Decide whether to focus Inbox or not (you'll find out more about this feature later)
Assign the minimum number of messages that Inbox Analyzer requires to offer forming a separate group (20 by default)
Schedule Inbox Analyzer - Based either on time (by default - switched on, 10 days) or on the number of messages in the Inbox (by default - switched off, 500 messages)
Work with the ignore list - Addresses that will be ignored by Inbox Analyzer while processing Inbox
After setting up Inbox Analyzer you can launch it. At the end of its work, you see a window containing the actions proposed by the Analyzer in order to optimize your messages: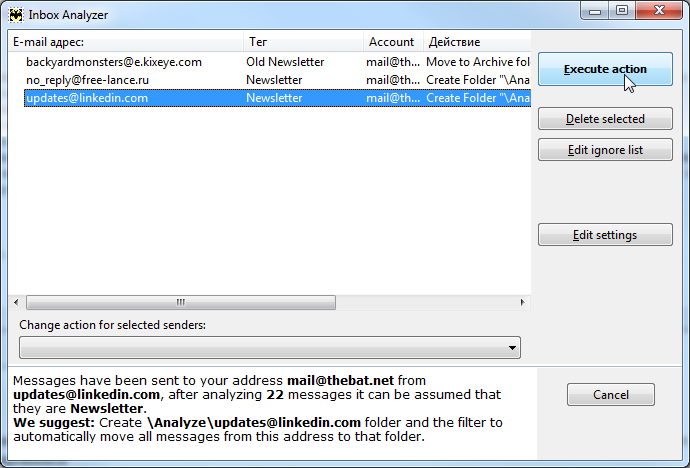 Thus, the Inbox Analyzer will divide all your messages into "Correspondents" (person-to-person messages), "Mailing lists" (communication in groups) and "Newsletters" (informative messages that don't require replies) and will offer to move these messages to certain folders, creating them if needed. More to that, based on the results of the analysis, Inbox Analyzer will offer you to create filters to sort newly received messages, as well as to divide each of the abovementioned groups into current and old messages, moving old ones to the Archive folder.
Switching between actions offered by Inbox Analyzer, you can see that in the message list are shown only messages related to selected action. When the Inbox Analyzer is working, you cannot view other folders than Inbox. It means that Inbox Focus is active. You can turn it off in Inbox Analyzer setup.
You can agree with the actions proposed by Inbox Analyzer, by clicking Execute action or decline them by clicking Delete selected. If multiple actions are selected, these buttons will work for each of the selected elements. Besides, you can change actions for selected senders in the drop-down menu:

You can select one of the following actions:
Skip – Don't handle this address now
Delete messages – Delete these messages
Move to folder – Move these messages to the specified folder and set the filter to do the same automatically in future
Mark as Spam – Move these messages to the Junk mail folder and set the filter to do the same automatically in future
Move to Archive folder once – Move these messages to the Archive folder without creating a filter
Move to ignore list – Skip this address and don't handle from now on
Recommended – Go back to the action recommended by Inbox Analyzer
You should remember that Inbox Analyzer is only processing the Inbox, and does not work with messages that are stored in its subfolders.