Message List Tabs: tricks for effective use
No doubt The Bat! users deal with a huge number of emails every day, and the sorting by message list tabs certainly helps speed up the search for messages in the long list. This article covers the most popular and simple ways of using this feature.
What are message list tabs? You might have not noticed or used them by now, but we surely do recommend trying them in practice. You can find message list tabs below the message list area: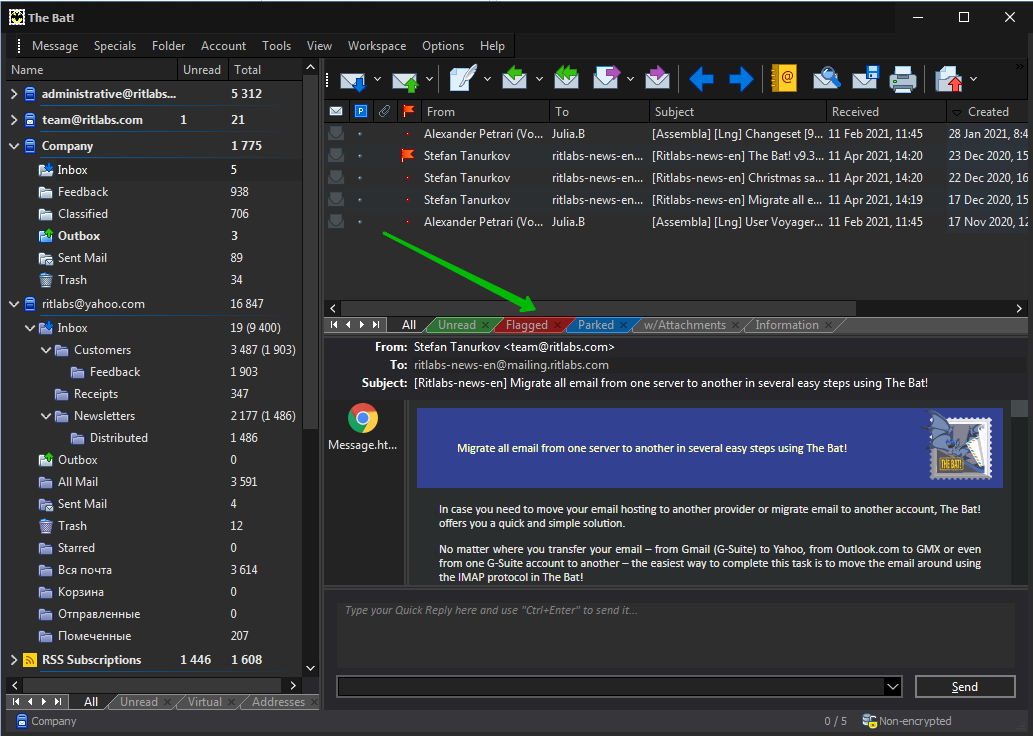 The Bat! offers a predefined set of most helpful message list tabs which sort and display messages that satisfy the conditions of their filters. Thus, if you switch to the "w/Attachments" tab, you will see only emails with attached files in the message list whereas the "Unread" tab displays only unread messages.
Some tricks of using message list tabs:
You can switch back from any tab to the entire list of messages by clicking the Esc key


Message list tabs are available in the separate message viewer and in the Message Finder window as well


You can create your own message list tabs with unique filters for quick sorting


Message list tabs in the current folder can display messages from any folders of any account! (Bet you haven't ever noticed it!)


You can quickly create message list tabs using the Quick Search: input the word for search, press Enter and The Bat! will instantly create a new message list tab. In order to save it, select the "Save for permanent use" option in the context menu. This tab will display messages containing the search word at least in one of the fields: sender, recipient, subject or memo.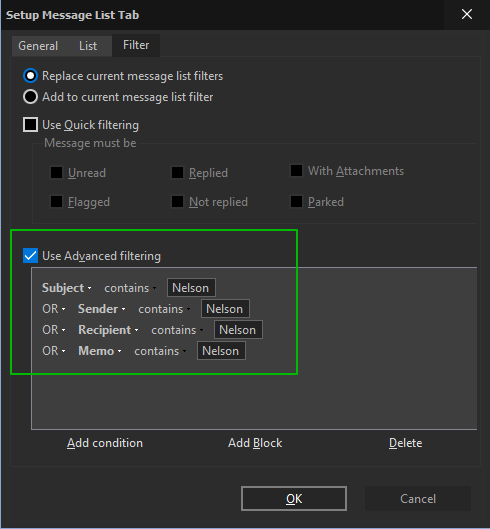 Creating your own message list tab is quite easy: right-click the message list tab area and select the "Create a new Tab" option. Now set up your tab: give it a name, select its color, display area, folders and filter.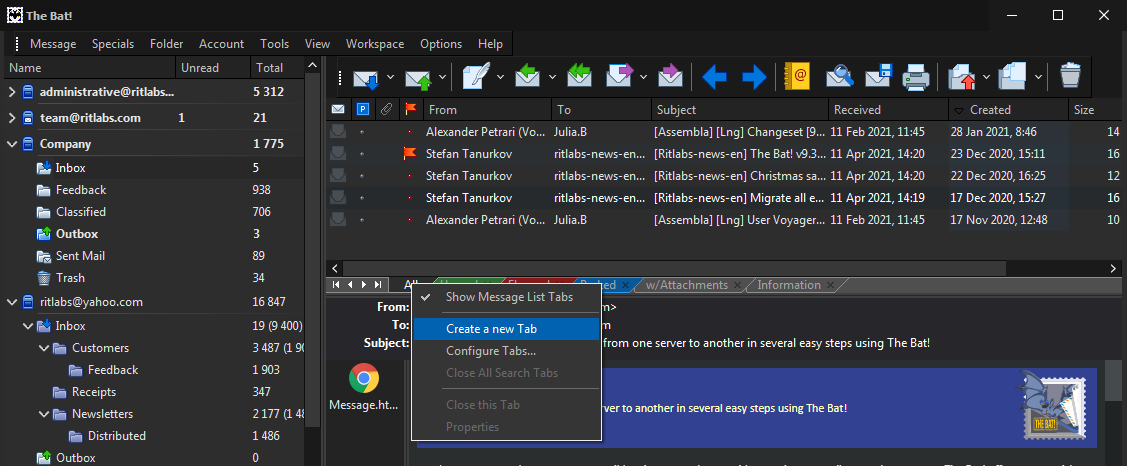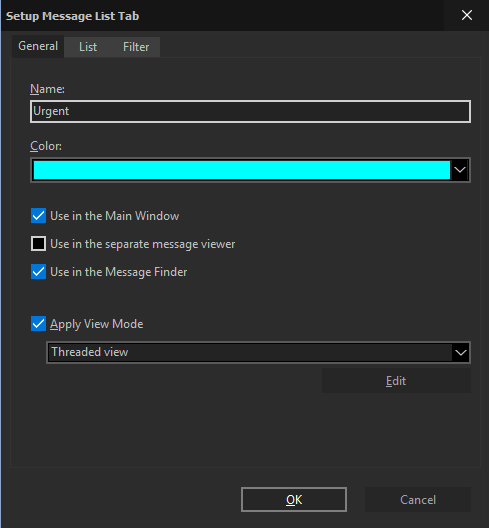 These are some ideas of using message list tabs in The Bat!:
Tabs to display correspondence with certain contacts. You can create tabs with your contacts' names to keep track of people you are messaging with.





A tab to follow up unreplied messages in the current folder or in several selected folders


A tab to display all messages that have a tag

A tab to show messages created within a day or several days


A tab to display incoming emails of several or all your accounts (or a tab to show messages from any other group of folders)

These are only a few examples out of hundreds possible – you should certainly examine possible filtering options and set up the tabs to fit your needs.
Emailing has become a common part of life, so the ultimate goal of The Bat! developers is to ensure an effective and easy email management. Message list tabs is the feature that contributes to that goal allowing users to save time and quickly sort messages in the list.