Do you use the MailTicker?
MailTicker is a visual indicator that displays information about unread messages. It displays the sender and the subject of the message by default.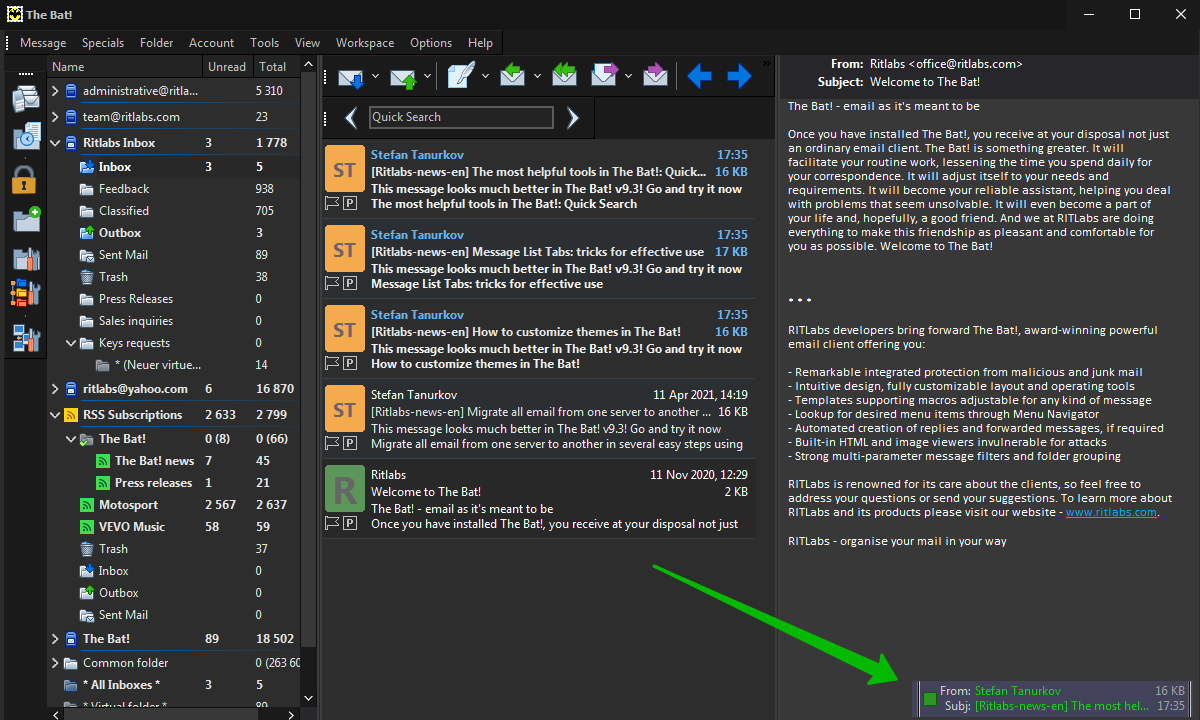 How does the MailTicker help manage email more efficiently? Here are some simple examples:
MailTicker appears on the screen only when new mail arrives in a certain folder/ set of folders – these can be emails from colleagues, customers, etc.
MailTicker shows only new messages with high priority
MailTicker displays only recently received new emails, for example, emails that appeared for the last 2 hours
You can set up the MailTicker in the "Options -> Preferences -> Message List -> Mail Ticker" menu.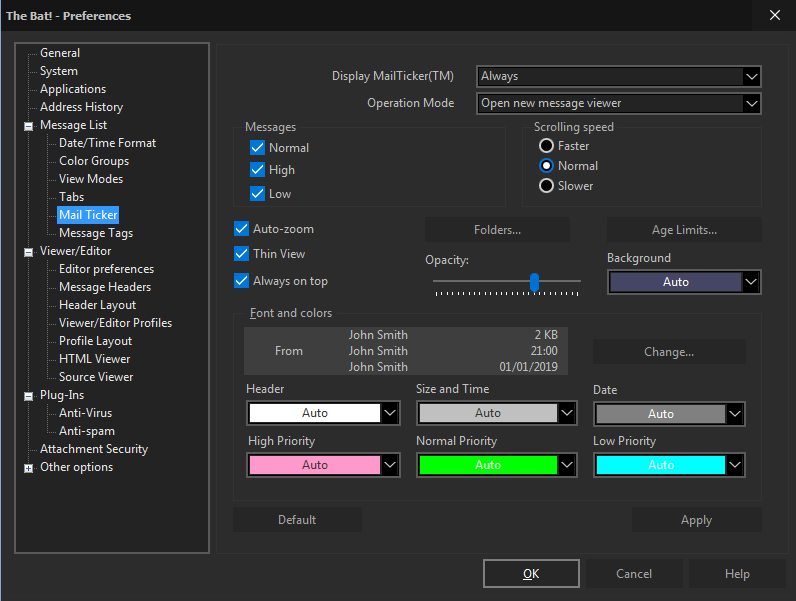 You can define when the MailTicker should be displayed –always, never or automatically, if unread messages are available. If you select "Always", The Bat! will show the MailTicker on the screen even if there are no unread messages.
Specify the action that will be performed when you double-click the MailTicker:
Open new message viewer – A virtual folder displaying unread messages will be opened
Focus to message – The cursor will be moved to this unread message
MailTicker displays all messages regardless of their priority. You can change this setting and, for example, display messages with high priority only. You can adjust the" Scrolling speed" as well.
You can also select "Folders" whose unread messages will be displayed on the MailTicker.
Click the "Age Limits" button to define the age of messages to display. You can set both maximum and minimum message age.
"Auto-zoom" expands the MailTicker to the border you drag it to.
If you disable the "Thin View" option, MailTicker will display the Recipient of the message as well.
Enable the "Always on top" option to see the MailTicker when working in other programs. The width of this visual indicator as well as its position on the screen can be easily changed using the mouse. You can move the MailTicker to the second monitor as well.
You can also specify the color, opacity and font of the text on the MailTicker. Moreover, you can set the color for each separate element – header, size and time and date. If you do not want to miss any important emails, you can even set a bright color of the font for emails with high priority.
To preview the new layout, click "Apply". If you want to discard all the changes, just click "Default".