Image Download Manager
Image Download Manager is a tool in The Bat! that takes control over the external media download.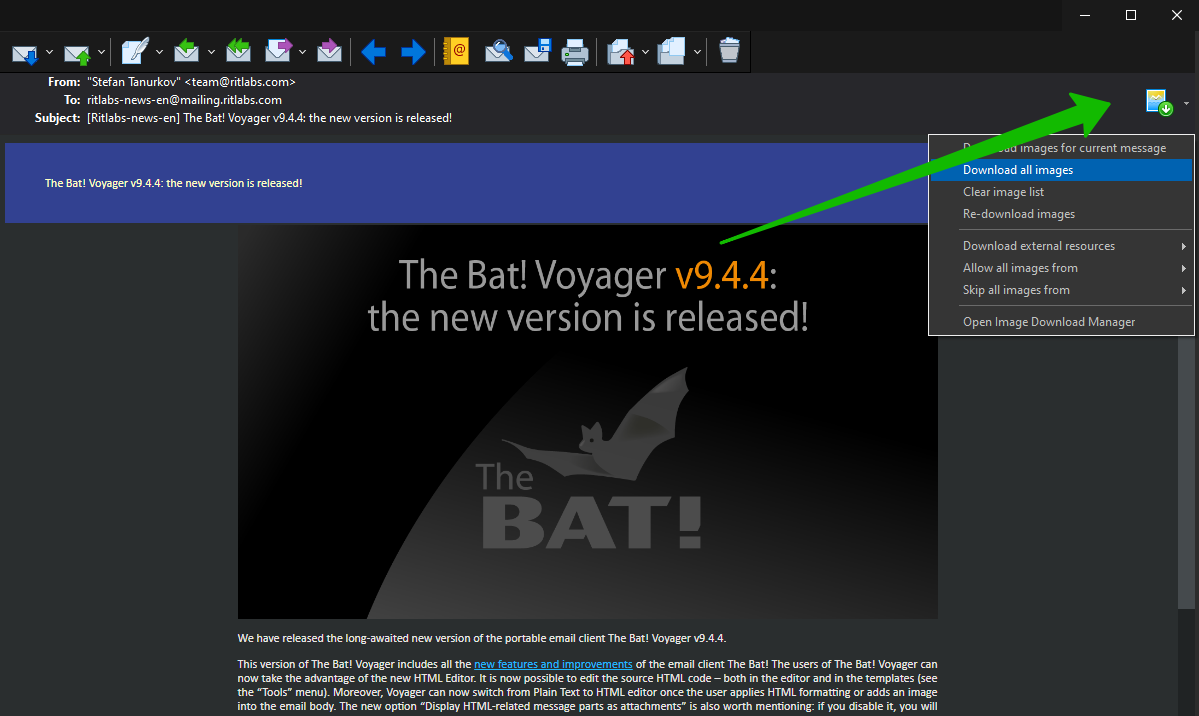 There are 3 modes of external images download in The Bat! (see the "Options → Preferences → Viewer/Editor →HTML Viewer" menu):
1. Automatically for all sources — if you choose this option, The Bat! will retrieve all images in the background mode.
2. Manual or explicitly allowed by rules — if you select this option, images will not be downloaded automatically. To download all images, you would need to click on the Image Download Manager icon

which will appear on the right-hand side of the headers pane.
3. Disabled — in this case The Bat! never downloads any images in HTML emails.
If the "Always show the Download button" option is disabled, the Image Download Manager icon will not appear on the headers pane if images are downloaded automatically and if the external media retrieval is disabled. However, you may enable the display of this icon and use it to download media in exceptional cases even if the automatic or manual image download is disabled.
To access additional image download settings, click the arrow next to the download manager icon: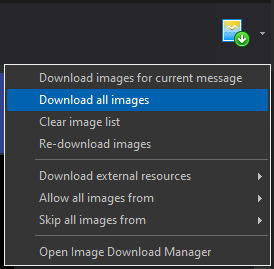 Select "Download images for current message", to retrieve external media from the selected email only. In this case all the remote images embedded in that particular message will be downloaded into the local cache. No images will be downloaded into another message from the same sender.
If you select "Clear image list", The Bat! deletes the images which are in the download queue for the current email.
You can "Re-download images" from the selected email, for example, in case the external images were replaced.
In this context menu you can as well access the global settings for image download, selecting one of the options under "Download external resources".
You can also create image download rules quickly, using the "Allow all images from" and "Skip all images from" options. It is possible to allow or block external media download from certain email addresses, folder or websites in the selected email.
To access the Image Download Manager settings, use the "Tools -> Image Download Manager" menu. You can add your own filters to allow or deny image retrieval by URL, folder or sender's email address. To create a new filter, use the "Create Rule" or "New" buttons. You can delete or edit rules at any time. For example, you can block banners by URL or image retrieval in the newsletter folder.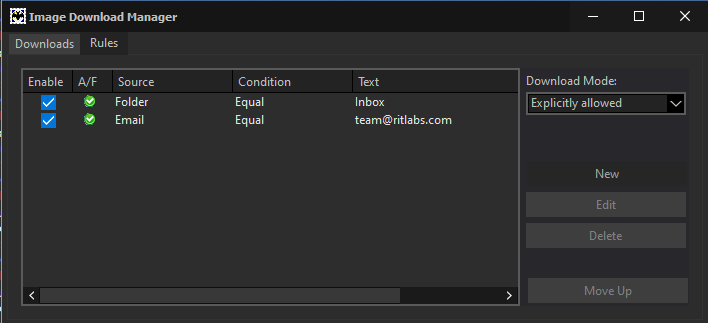 Thus, using the rules you can block the suspicious images and let the safe ones through. Image Download Manager is a tool for background image retrieval which prevents malware from reaching your computer through graphic elements of HTML messages.