Message Dispatcher in POP3 accounts
Do you prefer POP3 or IMAP4 accounts in The Bat!? Both protocols are used for retrieving emails from a server, but have completely different workflows.
While IMAP4 lets you sync folders with the server and only caches emails on your computer, POP3 stores all mail on your device and allows deleting them from the server, thus saving your server space.
Using POP3 account is a good idea if your server has limited storage or you do not want to store emails on the server to ensure the privacy of correspondence. The Bat! offers an extremely useful tool for managing email in POP3 accounts, and namely Message Dispatcher.
Message Dispatcher allows for looking at messages stored on the POP3 mail server without downloading them. It is useful for managing mail remotely, for example, leaving messages with attachments on the server until you get home, but still retrieving and reading the urgent emails while on a mobile connection. Using message dispatcher, you can also delete unsolicited emails from the server.
To open Message Dispatcher, use the "Account -> Dispatch Mail On Server" menu and select one of the options: New Messages Only (Ctrl+F2) or All Messages (Shift+Ctrl+F2).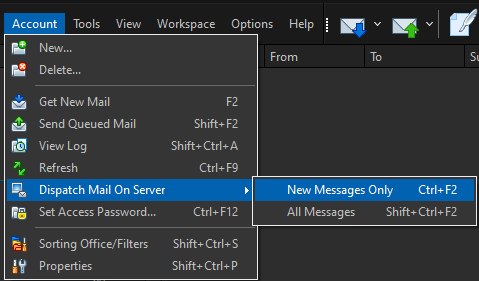 If you have a large number of messages, their downloading may take a while. After all the headers are loaded, you will see the list of messages available on the server.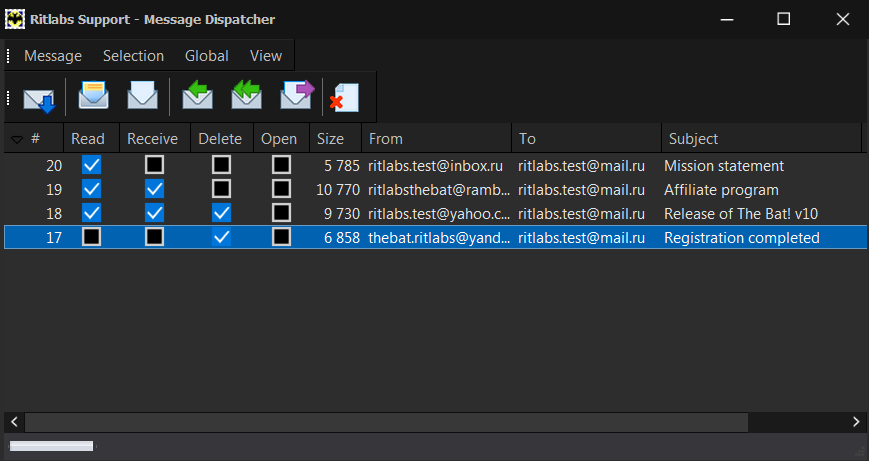 For each message, you can select the following actions to perform:
Read – Messages are marked as read on the server
Receive – Messages will be downloaded once you click the Start Transfer icon
Delete – The program deletes these messages from the server without downloading them
Open – Messages are opened in a separate window once you receive them (the Receive checkbox should be marked as well)
If you check the boxes as shown on the screenshot, the program will mark the first message as read but will not download it; the second message will be marked as read and downloaded into The Bat! while the third one will be deleted from the server after you receive it. The fourth message will be deleted from the server immediately.
Make use of the mouse cursor or shortcuts specified in the Message and Selection menus to check the boxes. If you want to check a box for all the messages, use the Global menu. Some of the actions like open, reply and forward are available on the Standard toolbar.
After you specify the actions for all the messages, click the Start Transfer icon (F2)

The program will perform the respective actions and the message dispatcher window will be closed.
Currently, IMAP4 is more popular than POP3, as it allows syncing and accessing the same email account from multiple devices, which is crucial for most users. However, POP3 workflow has its advantages as well, and The Bat! offers the best tools to make your POP3 accounts management as easy and secure as possible.