Virtual Folders
Virtual folders help you simplify your workflow, especially when you use several accounts. Virtual folders display only those messages that satisfy the conditions you set. A virtual folder can be displayed as an account folder/sub-folder or as a common folder.

Virtual folders do not contain messages, but only references to them. Messages are stored in their source folders and are watched by the virtual folders. Do not forget that any changes you make in virtual folders will affect the original messages.

You can use virtual folders to display unread or flagged messages, messages that you received this week, etc. You can also define many other conditions.
To create a virtual folder, use the Folder -> New -> New (Common) Virtual Folder menu. You can access this menu from the context menu of the account tree as well.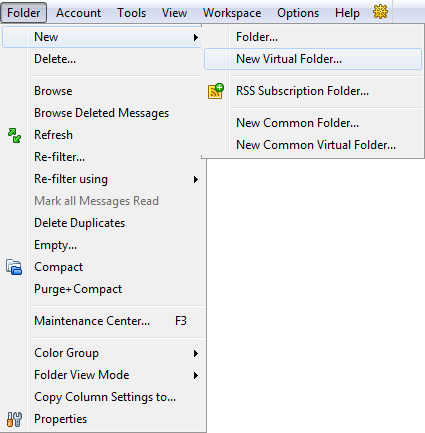 The settings in the General section of the "Create a New Virtual Folder" window are identical to the settings in the same section of the "Create a New Folder" window. Go to the Filter section to configure filter settings.


If you check the "Auto refresh" box, the virtual folder will show the current state of the messages. Mark the "Store state between sessions" check box to make The Bat! remember the messages displayed before exiting.

The Bat! counts the number of messages and displays it in the account tree. Parent folders include the number of messages of their sub-folders. As virtual folders do not contain messages but only references to them, the number of messages in the virtual folders is not taken into account. You can change this setting by selecting the "Count in upper level" option.
Enable the "Use fast search" option to set your search criteria. You can watch unread, parked, flagged not replied messages or messages that contain attached files. If you need to add other criteria, enable "Advanced filter settings" and configure the filter just as you do it in the Sorting Office.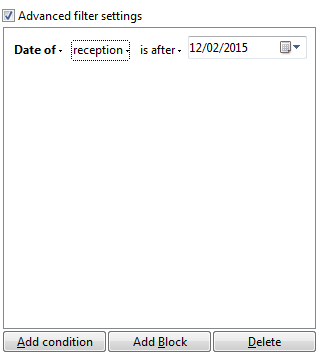 Click ОК to start choosing the folder your new virtual folder will show messages from. After you choose them, click OK to finish creating the new virtual folder.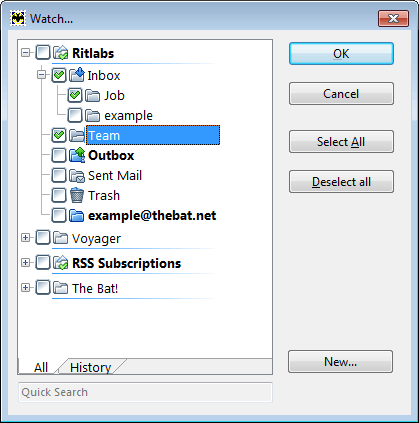 You can create virtual folders from the "Message Finder" window as well. Open it using the icon

and enter the search criteria. You can directly create a virtual folder from the results by clicking the "Virtual Folder" button. Search conditions will turn into a filter of the virtual folder. You can change them, if needed.