The Bat! allows you to save all sorts of information about a contact, including his or her email address, name, organization, date of birth, and more. To access contact properties either double-click the contact or right-click it and select "Properties" (Alt+Enter).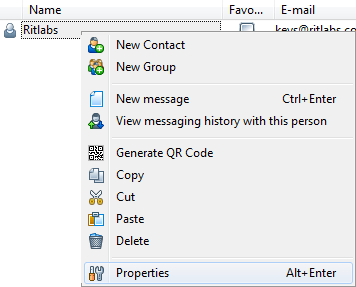 The "Edit Address Entry" window appears. At the bottom-left corner you can select the address book to which your contact will be added. For example, you can save your personal and business contacts in different address books. To create an address book use the File -> New -> Address Book menu.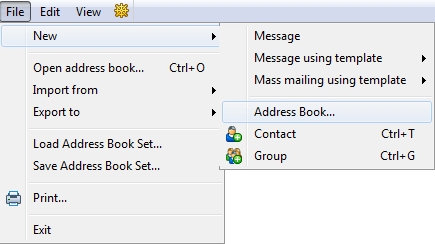 The "Edit Address Entry" window contains several tabs: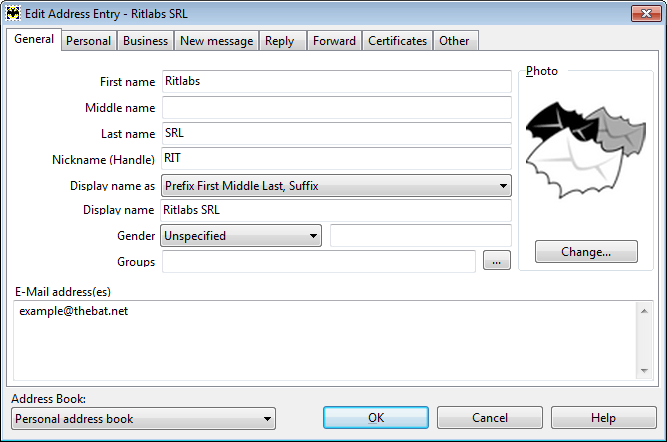 Under the General tab you can specify person's first, middle, last name, nickname (handle) and gender. You can define the display name of the contact (for example, first last name or last, first middle name, etc.) If you want to add this contact to a group, click the button to the right of the Groups field and select the groups. Finally, you can add a photo that will be displayed on the headers pane. Each contact may have secondary email addresses as well. The first address will be used for all new messages by default.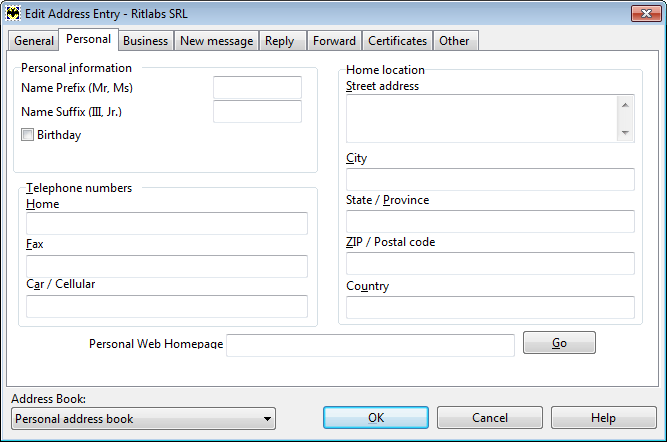 Under the Personal tab you can add some more information about the person, such as name prefix or suffix, date of birth, telephone numbers, home address and web-page. The Bat! checks address books for those who have birthday this day on each program startup or at midnight if the program is running and can remind you of them.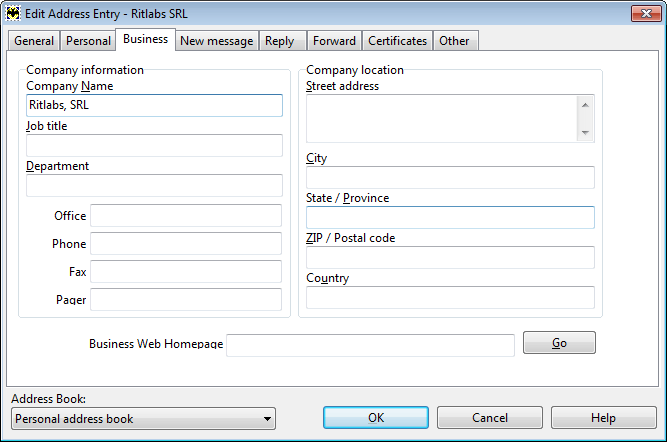 If you need to add company information, switch to the Business tab.
As you already learned from the Templates section, templates can be set for accounts, folders, address book groups and contacts. You can specify templates for a contact under the New message, Reply and Forward tabs. To add certificates, switch to the Certificates tab.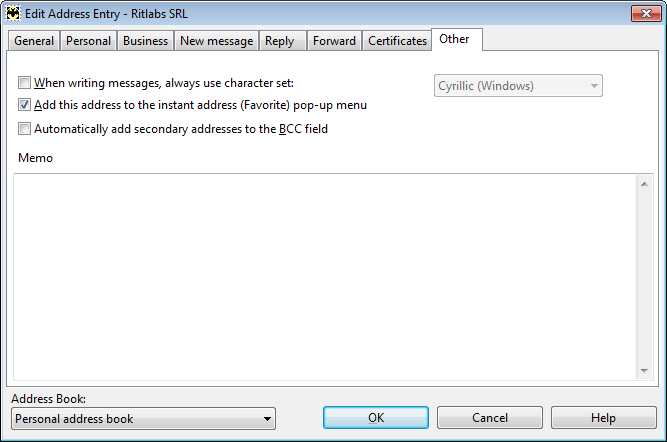 Under the Other tab you can enable the following options: 
- When writing messages, always use character set: You can specify a certain character set for messages to this contact. This can be useful for foreign correspondents.

- Add this address to the instant address (Favorite) pop-up menu: If you select this check box, the address will be displayed in the pop-up menu of the "Create a new message" icon. To add a contact to favorites, you can also check the box in the Favorite column in the contact list of the address book.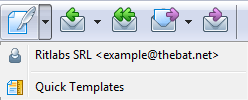 - Automatically add secondary addresses to the BCC field: This option can be useful if you added secondary addresses for this contact. If you enable this check box, The Bat! will add these addresses to the BCC field. This function will work only if you create a message using the File -> New -> Message menu in the Address Book.