Other Options

In the Other options section you can define where the Quick Reply Pane should be displayed. You can display it in the main window, in the separate message viewer and in the Message Finder.

You can also enable the "Remember the last destination of copy/move operations for each folder" option so that the program remembers the folder you moved or copied messages to last time.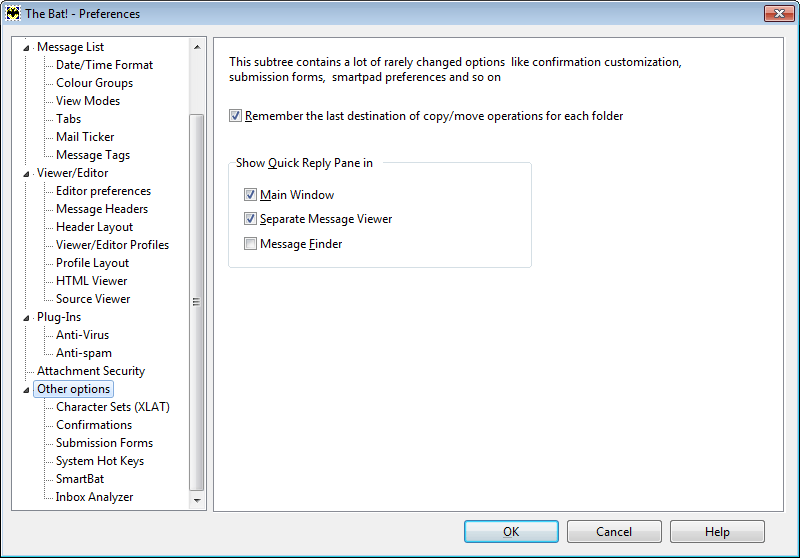 Character Sets (XLAT)

Using the Options -> Preferences -> Other options -> Character Sets (XLAT) menu you can manage character sets that are available in the editor and message viewer. You can add, delete or edit character sets.


Confirmations

Using the Options -> Preferences -> Other options -> Confirmations menu you can specify the actions that need a confirmation. If you set a confirmation for an action, you will get a warning when you try to perform this action and you will be able to cancel it. If you do not set a confirmation, the action will be performed without warning.

For example, if you enable "Check for update when The Bat! starts", the program will inform you of a new version when it is available.


Submission Forms

In this section you can add and delete submission forms. Submission forms are a tool for creating queries that are automatically processed. A query is actually a message with strictly defined fields and string variables. The queries come from a user with form templates (files with a TBC-extension). Such user is referred to as the client. The program that processes user requests is known as the server. In order to provide a proper transaction, the format of query fields must be equal on both client and server parts. As the server usually works with more than one client, the form templates (TBC-files) are usually created on the server and then signed and sent to the clients before starting any transactions between the client and the server.


System Hot Keys

Certain functions in The Bat! can be assigned to Hot Keys, which are available system wide, even if you are working in another program. For example you can assign a hot key for the "Invoke SmartBat" action and open this text editor to make notes when needed.


SmartBat

In the SmartBat section, you can configure SmartBat and Scheduler.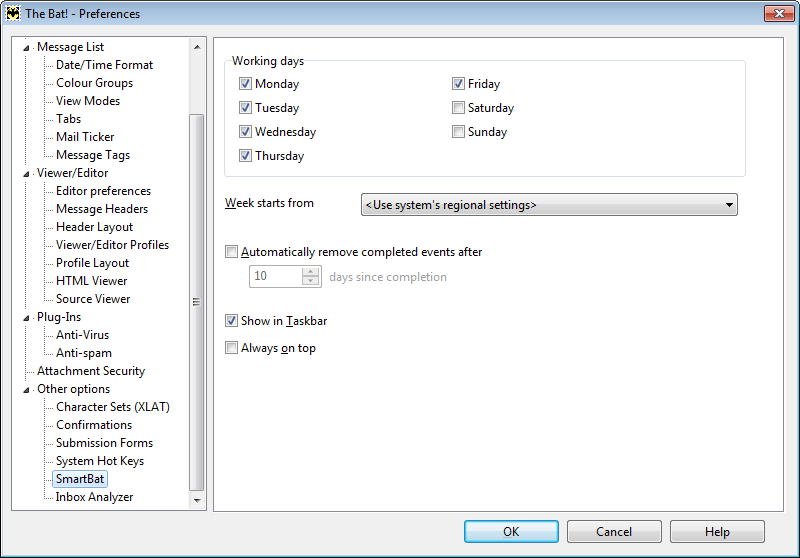 Define the days to be considered as "working days" and specify the day the week starts from.

Enable the "Automatically remove completed events after …" option and set the number of days to delete events in the Scheduler that have already been executed.

You can show SmartBat in Taskbar and display it always on top if desired.


Inbox Analyzer

In the Inbox Analyzer section you can change its settings. You can specify the folders into which the analyzed messages will be moved, select accounts to be scanned, schedule the Inbox Analyzer and edit the ignore list. For more information on the features of this important tool, see the article Inbox Analyzer.