Creating Filters Quickly

To create a filter in The Bat! you do not necessarily need to access the Sorting Office. Right-click a message and select the "Create filter" option or press the Ctrl+Shift+F key combination to create a filter quickly. Alternatively, you can use the Specials -> Create filter menu in the main program window. The following window appears: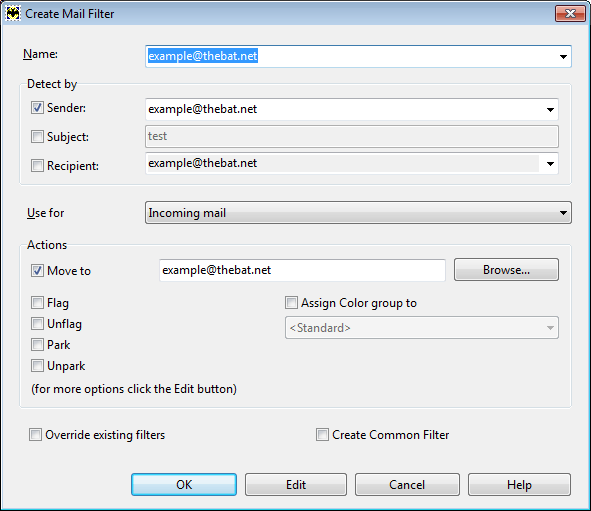 The default filter name coincides with the sender's address. You can define your own filter name or select an alternative one from the dropdown menu by clicking the down arrow on the right side of that field.

Select the condition in the Detect by section. The program can sort out messages by sender, subject or recipient. If you select several conditions, the filter will trigger only if all of them match.

Specify the category of messages to which the filter should be applied: incoming mail, outgoing mail, read messages or replied messages.

Define the actions to perform. If you need to move messages to a folder, select the Move to action and specify the folder by clicking the Browse button. To flag, unflag, park or unpark messages, check the respective boxes. To assign a color group, check the "Assign Color group to" box and select a color group in the dropdown menu.

If you already have filters in the Sorting Office, you may enable the "Override existing filters" option. The Bat! checks filters from the first to the last one in the list, so you can place this filter to the topmost position to make sure it will trigger.

If you "create a common filter", it will be applied to all of your accounts.

Click OK to finish creating the filter. This filter will be displayed in the Sorting Office in the respective category. It will be active, and will trigger on any new message that satisfies its conditions.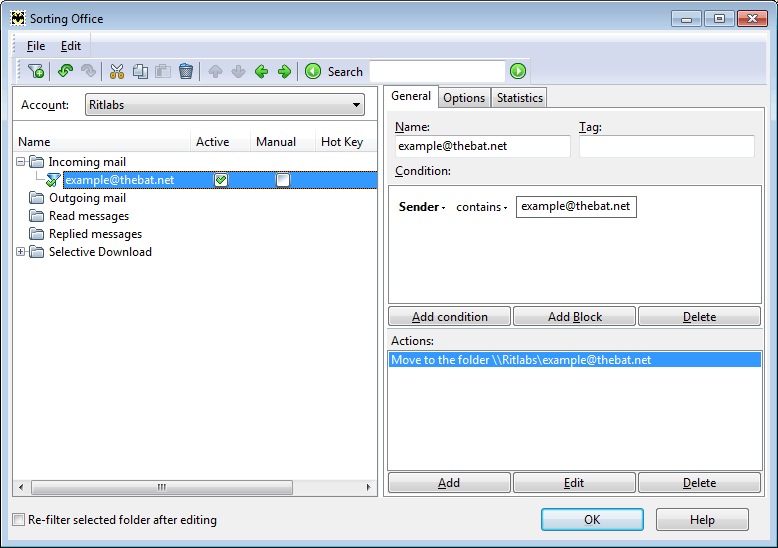 To edit the filter and add different conditions or actions, click the "Edit" button. Click "Cancel" to abandon changes.